Last week I took a bunch of photos of
Fearne Cotton
for press, because they didn't have any "action shots" of her - plenty of posed publicity photos, but nothing of her in action doing her job behind the radio desk.
Fearne's been having flashbulbs popped in her face for pretty much her whole life, so she was a top pro and just got on with presenting her show while I snapped around her. The photos I took just got added to the stock of photos we have of Fearne.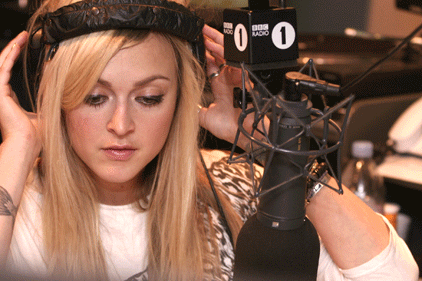 This week the first one ended up in the press (in
trade paper PR Week
). Now I click on that link, and I don't find it very exciting at all. But holding a magazine in my hand with one of my photos in it, I get a buzz from. I work on quite a lot of high profile stuff, and often millions of people see my work online, but there's still something quite exciting about seeing stuff in print. Silly, I know.
And if the
constantly recurring photo
of 'motormouth DJ Chris Moyles' is anything to go by, this photo of Fearne could be appearing in the press unchanged for the next 8 years.